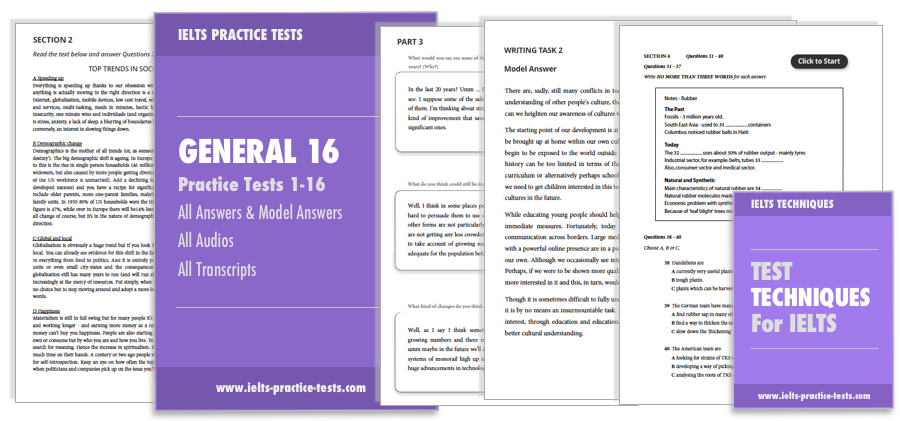 16 IELTS Practice Tests
Each practice test contains a complete Listening test, Reading test, Writing test and Speaking test – equal to about 48 hours of IELTS test time.
Quality
All tests are produced by a small team of fully qualified, former British Council IELTS teachers, IELTS examiners and test writers.
Questions & Answers

All the different IELTS question types are included. All answers for the Listening and Reading tests are of course included as well as model answers for all the Writing and Speaking questions.
Mobile, Offline, Print

The tests are in PDF format which means they can be accessed on any device, online or offline and easily printed.
Audios & Transcripts

All audios are included for the Listening and Speaking tests and all transcripts for both.
Plus
This pack includes 'TEST TECHNIQUES for IELTS' which contains the most effective techniques and tips you can use to improve your test performance.
REVIEWS FOR THIS PACK
Please note that all our customer reviews are genuine and used with the permission of each person.
"I'm very happy with these practice tests and the techniques too. I needed to get 7.0 overall in IELTS General Training and I did! These practice tests gave me more than enough practice, everything I needed to get 7.0, thank to this website. I recommend it to you.

Pascal, France
"Very good help for IELTS test.
Khalid, Australia
"There is so much practice in this pack. It is what I need! Thank you so much for this service.
Juan, Mexico
"I studied these practice tests before my test and I got 7.5 in reading and 7.0 in the others. So I think these tests are good practice.
Akira, Australia