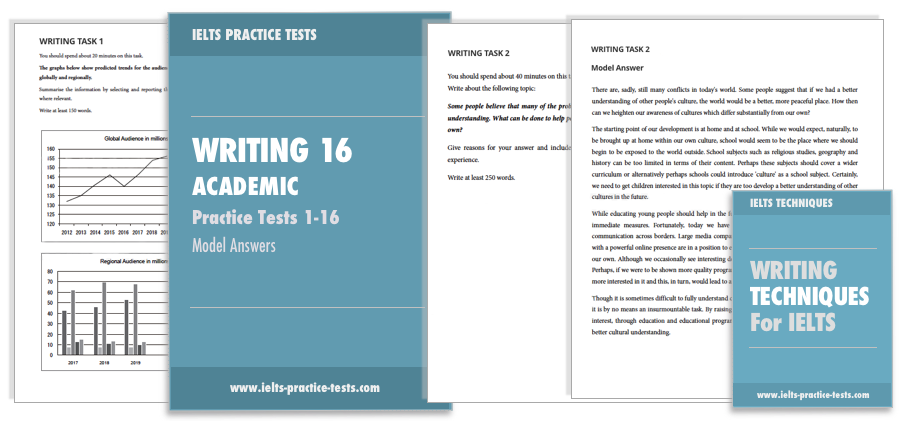 16 IELTS Writing Tests
As in the official IELTS test, each Writing test contains a Task 1 and a Task 2, providing a total of 32 tasks – 16 hours of IELTS test time.
Quality
All tests are produced by a small team of fully qualified, former British Council IELTS teachers, IELTS examiners and test writers.
Questions & Answers

A wide range of Task 1 and Task 2 questions are included. Model answers written by IELTS teachers are provided for every question.
Mobile, Offline, Print

The tests are in PDF format which means they can be accessed on any device, online or offline and easily printed.
Plus
This pack includes 'WRITING TECHNIQUES for IELTS' which contains the most effective techniques and tips you can use to improve your test performance.
REVIEWS FOR THIS PACK
Please note that all our customer reviews are genuine and used with the permission of each person.
"The writing tasks and model answers are really useful and the self prep is not just a few tips but a systematic way of doing the writing tasks. I got my result today: 7.5 overall and 7.5 in writing. I am well happy! I would definitely recommend this pack.
Aysha, Singapore
"I bought this pack because I can't write my answer quickly enough. The model answers are excellent because they show you a lot of useful phrases and words and also how to organise the answer. They are very useful. Thank you.
Jing Wu, China
"Really useful model answers and lots of them. The ideas in Task 2 are very helpful too. The IELTS techniques is also really good with some really good tips. I used this to prepare and I got 7.5 for writing.
Tomasz, Poland
"This download has very good model answers for Task 1 and Task 2. Just like the real IELTS test – very useful.
Lulu, Germany